Our Villas and Apartment
Bem Vinda (Welcome)
We currently have two beautiful villas (casas) to rent in the countryside hills of the Algarve and a stunning beachside apartment in Fuzeta, along the Algarve's superb coastline.
The Algarve, Portugal's most southern region, is the perfect paradise for a vacation. With a year round temperate climate, sensational beaches, exquisite local culinary delights and countryside hills where fig, almond and pomegranate trees abound, the Algarve has something for everyone.
Whether you want to escape to the tranquility of the countryside, surrounded by the Algarve hills stunning natural beauty or enjoy the sensational coastline, watersports and coastal villages, you have plenty of options to choose.
Our holiday homes are stylishly furnished and designed to make your stay on the Algarve a home away from home. You will find everything you need to make your stay here one to remember.
- we want to help you make memorable moments that you will forever treasure.
See details below for:
Casa Poente (Sleeps 3)

Casa Soalheira (Sleeps 6)

Mar Paraiso Apartment (Sleeps 4)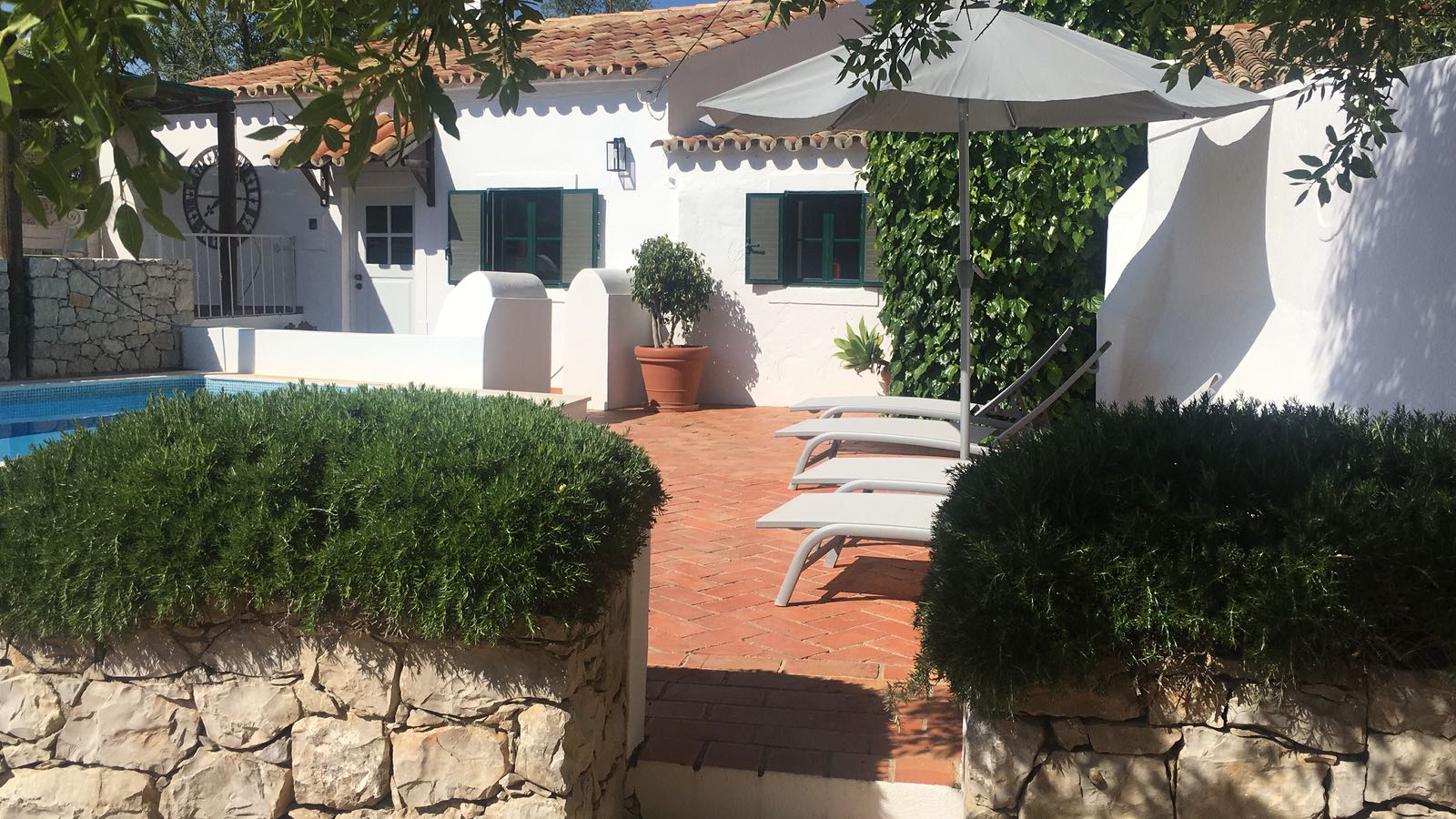 Casa Poente is the perfect couple retreat in the Algarve countryside. Nestled in the little village of Corotelo, this charming oasis is a haven of peace and tranquility.
- Sleeps three, (one bedroom, one sofa-bed)
- One bathroom
- Air-conditioning, Heating
- Fully equipped kitchen, Dishwasher, Washing machine
- Outdoor pool, BBQ, Sun loungers
- Free Wifi, Free Private Parking

This gorgeous house in the hills is only 17km from Faro and 24km from the trendy town of Vilamoura.
Casa Poente is a lovingly restored farmhouse. It maintains its traditional features both inside and out, but has all modern conveniences. Inside, it is tastefully furnished and decorated with interesting art and antiques. Outside, you can cool down in the azure blue plunge pool, laze on a lounger under the parasol, dine al fresco listening to the relaxing sounds of nature and sip a wine while watching the sunset behind the hills.

In summer the casa is cool, but air-conditioning is installed if needed. For the the winter months, there is heating and a log burning fireplace in the bedroom.
A gourmet kitchen, opening onto both inside and outside dining areas, will appeal to the amateur chef and the outside BBQ is perfect for grilling fresh Algarve produce.

Casa Poente provides the perfect idyllic setting in the Algarve countryside - a place where time treads softly.
Check availability below.
Casa Soalheira nestles into the soft, dry hills of the Eastern Algarve. It is situated North of Faro, between Loulé and São Brás de Alportel, in the little village of Corotelo. Casa Soalheira is a relaxing retreat in the beautiful countryside of the Algarve.
- 3 double bedrooms
- 3 bathrooms
- Air-conditioning, Heating
- Fully equipped kitchen, Dishwasher, Washing machine
- Outdoor pool, BBQ, Sun loungers
- Free Wifi, Free Private Parking
Casa Soalheira is an old farmhouse that has been lovingly renovated. It maintains its traditional features both inside and out, but is equipped with modern conveniences. A gourmet galley style kitchen opens onto both inside and outside dining areas.
The outside area has a tropical flower filled garden and an azure blue pool just perfect for relaxation. At night, garden lights provide a romantic ambience in which to enjoy this charming countryside casa.
Each bedroom has its own bathroom with walk in shower.
Once parked inside the secure front gates, there is ample gravel parking in the courtyard.
Casa Soalheira is your special 'home from home' and a perfect retreat away from life's hustle and bustle.
Check availability below.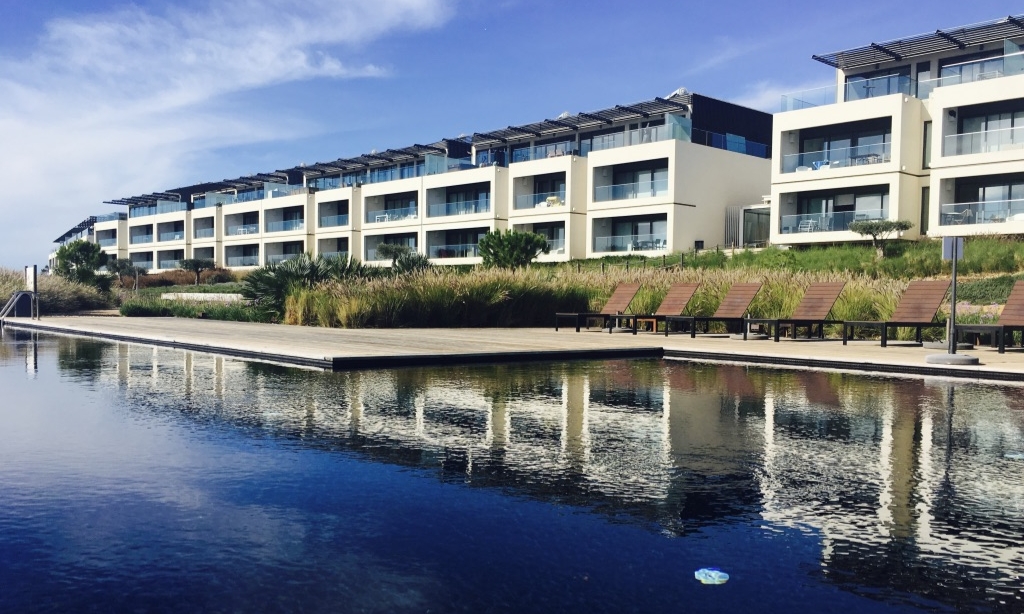 Mar Paraiso (which means 'Ocean Paradise'), is a stunning two bedroom apartment with an unobstructed view to the ever changing seascape across the salt marshes of Fuseta's tidal lagoon. From here you can watch windsurfers, kite-surfers, kayaks, flamingoes and many other birds.
- 2 double bedrooms*
- 1 bathroom
- Air-conditioning, Heating
- Fully equipped gourmet kitchen, Dishwasher, Washing machine
- Outdoor pool, Sun loungers
- Free Wifi, Free Private Parking
This ground floor apartment is in the architecturally stunning Del Mar Village. The open plan living room and dining room benefit from glorious views across the ocean with doors leading to an outside terrace. Mar Paraiso is beautifully furnished with homely touches such as modern art, CDs, and books. There is free Wi-fi, Flat screen TV, Netflix and Apple TV.
The two comfortable bedrooms can both be set up as king size beds, or one can be split into two single beds. Just make your choice known when you book. Each bedroom has its own luxury en suite bathroom, one with bath/shower and one with walk in shower.
Guests have use of the tropical garden between the residence and the sea, which has an infinity edge pool, sun loungers and umbrellas.
The apartment has secure street access and secure underground parking available by arrangement (accessed by lift from the ground floor).
Availability
Mar Paraiso is available from Easter to October.
Inclusions
- all your linens (luxury bed sheets and towels, as well as pool towels),
- beach umbrella and sun lounger cushions.
- 4 bikes can also be made available.
* If you are a couple and do not intend to use the second bedroom, then there is a discounted price on request.
Check in /out
At check in (from 4pm normally) you will be personally welcomed by the owner or his concierge. A security deposit is required.
Check out is by 10 a.m. on departure day.
Guests are asked to remove anything that they have brought into the apartment on leaving.
Location
Fuseta (or Fuzeta), is a small fishing village about 25 minutes from Faro airport, lying between Olhão and Tavira. It sits within the natural park Ria Formosa, recently named as one of the seven natural wonders of Portugal.
Fuseta is a lively place with restaurants, cafes, small supermarkets and bars, all within walking distance of the apartment. There is a daily morning market alongside the tidal canal with plenty of fresh fish to try.
The eastern Algarve retains its traditional Portuguese character and life is much more simple and authentic compared to the western, more built up areas of the western Algarve. The old part of Fuseta boasts narrow, cobbled, shaded streets and two storey, flat roofed houses in traditional style.
The area is an ideal location for beach lovers, cyclists, walkers and birdwatchers. Indeed, Fuseta and the Ria Formosa are a nature lover's haven.
Transport
The apartment is a short stroll to the Fuseta train station, where there is frequent service up and down the Algarve coast, allowing guests to easily explore Olhão, Faro and Tavira.
Ferries and private hire boats run from Fuseta to the beautiful, clean deserted beaches of the barrier islands, which run along the coast of the eastern Algarve.
Come and book a stay at Mar Pareiso and enjoy an authentic Portuguese holiday on the beautiful Algarve Coast.
From your adventure in Portugal to the French countryside